You are currently on the:
CMHA National
Visit our provincial websites
Often we go through life solving our day-to-day problems without needing help. Other times, an illness, an accident, an emotional crisis, or life's challenges can overwhelms us. In this section, you will find resources for getting help when you need it most.
Here2Help: Self Referral Form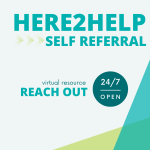 CMHA-Sudbury/Manitoulin is committed to the health and wellbeing of everyone in our community. Please complete this form and a trained mental health professional will respond to you within 1 business day. We are Here 2 Help.
Fill out the form here: https://sm.cmha.ca/programs/here2help-a-community-resource/ 
In Crisis?
24-hour Crisis Line: 705-675-4760 or toll-free at 1-877-841-1101
Crisis Intervention Services: go to 127 Cedar Street in Sudbury, 7 days a week from 8:30 am to 10:00 pm (no appointment necessary) or arrange for someone come to you between 10 am and 10 pm by calling the 24-hour Crisis Line
Need to Talk to Someone?
Curious about supportive programming options?
Northern Initiative for Social Action's (NISA)Regional Warm Line offers peer support to folks all across northeastern Ontario and addresses some of the challenges facing people with lived experience of mental health challenges/illness.
BounceBack is a free skill building program managed by the Canadian Mental Health Association (CMHA).
AbilitiCBT is an internet-based cognitive behavioral therapy (iCBT) program that you can access from any device, any time.
Looking for Community Support?
We're here to help. Call us at 705-675-7252 for more information. We can connect you with supports and resources available in your community.
You can also check out 211 Ontario North for information on social, community, health and government services in Northern Ontario.