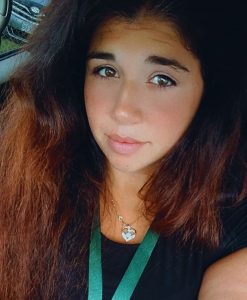 Q. What do you do at CMHA Sudbury/Manitoulin? 
"As an Intake Worker, I provide brief services, which is a service that provides support to individuals, family members and professionals in the community by navigating the mental health and addictions sector and by networking with community partners. We complete referrals and assessments for individuals to access different programs/services and treatment facilities."
Q. What do you love most about your job?
"The thing I love most about my job, is that I get to meet people and learn about their journeys and recovery paths. I continuously feel like I am learning something new everyday at my job while providing support and advocacy. The individuals I meet on a day-to-day basis are very inspiring and resilient."
Q. What do you enjoy doing when you aren't working?
"I love spending time with my children and making memories when I am not working. My family and I are very adventurous, and we all have a go-go-go personality."
Q. What is one piece of advice you received when you first started working as an Intake Worker?
"One piece of advice I received when I first started was "Don't be afraid to ask for help". It's important that even if you have a different job title than someone else, you must remember that as an agency you are all a team – and everyone has their own expertise and background to bring to the table."