This month we are highlighting all the great things happening at the Off the Street Shelter at 200 Larch More importantly, we are sharing some stories from our amazing team. Today you'll learn a little bit about Haley, Shelter Worker.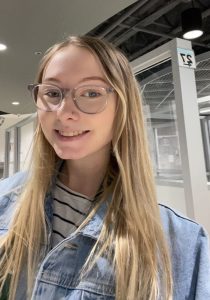 What do you love most about your job?
"I love that this job has a positive learning culture for staff and individuals accessing the shelter. I also love how well the OTS team works collaboratively to meet the goals of individuals accessing the shelter while sharing similar goals and values."
What is a fun fact about yourself?
"Soccer is my favorite sport. I have been playing since I was 10."
What is the most rewarding part working at the Off the Street Shelter?
"The most rewarding part about working at OTS is being able to work with other community agencies to help ensure individuals accessing OTS receive the most adequate support and help encourage them to meet their goals. I always find it super rewarding to see the progress individuals make within such short periods of time."
What is one piece of advice you would give to new staff? Or what is one piece of advice you received when you first started?
"I would encourage new staff to take on tasks that are out of their regular comfort zones. OTS provides you with many opportunities and you will have a strong team supporting you."