This month we are highlighting all the great things happening at the Off the Street Shelter at 200 Larch. More importantly, we are sharing some stories from our amazing team. Today you'll learn a little bit about Dharshanan, Shelter Worker.
What do you love most about your job?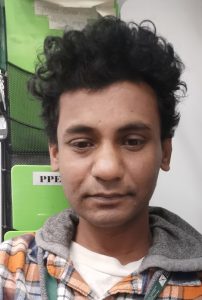 "There are too many to list, but my favorite part about my job is that I get a unique opportunity to meet unique people from all walks of life. Also a very open minded management team, who are willing to try new ideas to see what the benefits and risks individuals who access the shelter."
What is a fun fact about yourself?
"Some fun facts about me are that I play Red Dead Redemption 2 and I'm a huge fan of the show The Office, favourite quote is, "I am not superstitious, I'm little stitious"."
What is the most rewarding part working at the Off the Street Shelter?
"One of the most rewarding parts of working at OTS is watching individuals get permanent housing and some of them do take time to visit shelters and give us donations, because all of them know what it is like being in our clients shoes."
What is one piece of advice you would give to new staff? Or what is one piece of advice you received when you first started?
The best advice I was given on my orientation was "don't check work email at home". From this simple statement, I learned that CMHA values our wellbeing and overall mental health.
My advice to the new staff is, I can guarantee you will never win the lottery unless you buy the ticket. Don't be afraid to seek new creative way to solve a problem, who knows it might just be the winning ticket."
What is it like working at the shelter through the pandemic?
"One of my biggest challenges was helping individuals understand what COVID-19 is and how they can protect them self. I overcome this challenge by taking the time explaining to each individual, what the virus is, how it affects us, and what can be done to protect ourselves."