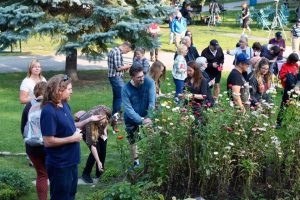 (SUDBURY, September 10, 2019) The Suicide Safer Network Sudbury (formerly the North East Suicide Prevention Network) regrets to inform community members that due to inclement weather conditions, the annual World Suicide Prevention Day Butterfly Release and BBQ, scheduled for this evening at the Elizabeth Bell Gazebo, has been canceled. More details regarding the Network's plan for future community events will be shared at a later date.
"Unfortunately the activities planned for this evening's outdoor event are significantly impacted by rainy conditions", shares Sue Tassé, organizer. "We wish to thank our planning committee and supporters for all of their generosity and efforts in making Sudbury a suicide safer community. We encourage Sudburians to take a moment today to honour those affected by suicide and to reach out if you or anyone you know is struggling with suicide."
"There is still opportunity to raise your level of suicide alertness, however," shares Tassé. "The Canadian Mental Health Association and Centre de santé communautaire du Grand Sudbury are offering free community safeTALK sessions in both English and French this week. The English session is this Thursday, September 12 from 5:00pm-8:00pm at the CMHA Sudbury branch and the French session is this Friday, September 13, from 1:00pm-4:00pm at Centre de santé. More information on how to register can be found on the CMHA-S/M website at sm.cmha.ca or by calling 705-675-7252.
Community members can still honour today's message by taking the following actions:
Partake in a moment of silence to remember those lost to suicide
Light a candle in honour of those affected by suicide
Reach out if you or someone you know is struggling with thoughts of suicide
Familiarize yourself with community supports and resources
For more information, please contact:
Sue Tassé
Manager of Clinical Services, CMHA-S/M
(705)675-7252 ext. 224